Busabout Europe Driver 2020
148348
Busabout
London
,
England
Apply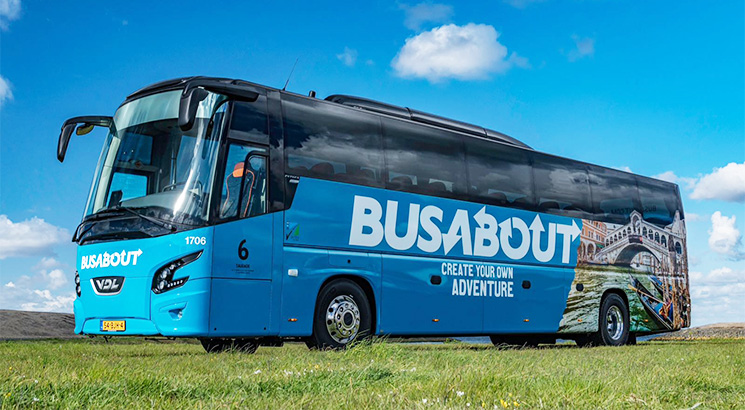 We're not your average travel company. By being the alternative choice we have remained dedicated to our freestyle form of travel. Our unique Hop-on Hop-off flexible Coach Network covers 38 destinations in 14 countries across Europe. We live to travel and as travellers ourselves know what makes an unforgettable trip. It's your choice your way.
This passion to explore the world (without costing the Earth) has also developed over the years into our innovative adventures, be it island hopping in Greece and Croatia, partying at Europe's biggest music festivals, discovering the ancient cultures of Southeast Asia or living the dream in North America. We give you the choices and flexibility to build your own adventure, so you can live it your way. And no other way.
Busabout Europe Driver 2020
Applications are now open!
We are currently recruiting Drivers for the 2020 season. The position is to work on our unique Hop-on Hop-off network all over Europe.
As a Busabout Driver, you'll get the opportunity to share your experiences with excited travellers on our unique Hop-on Hop-off coach network, from San Sebastian to Krakow, to as far south as Rome and as far north as Amsterdam. You'll be spending a summer living a nomadic lifestyle all over Europe; one day you'll be enjoying a day off in Venice, the next you'll be on your way to the Swiss Alps and get to experience the best Europe has to offer from behind the wheel!
You will drive modern coaches to the most exciting places in Europe. Backpackers of all ages, from all over the world choose Busabout, meaning you'll never have a dull moment and will make lots of new friends along the way.
You'll be based in mainland Europe for the season, so your accommodation is covered (even when you are having days off!). Some other of the many benefits include:
Time off in various European cities.
Highly competitive pay package.
Excellent training and support.
Getting paid to travel and work with some of the most passionate and friendly people you will ever meet.
We also have a series of adventure trips that delve just that little bit further into Europe. Short breaks in Italy & Spain, island hopping in Greece & Ibiza and journeys through Eastern Europe, Turkey, Scandinavia & the Baltics. We're also boffins on sailing, with epic trips along the coastlines of Croatia, Turkey & Greece. We also do all the top European Festivals for those who want to party in style.
Wherever you want to travel, create your own adventure.
To become a Busabout Coach Driver, you will need to meet the following criteria:
Hold a European Passport.
Hold a European Class D - PCV licence (Manual & Automatic accepted)
Hold the relevant CPC qualification.
Be friendly, approachable and have a good sense of fun.
Love interacting with people.
Ability to work well as part of a team.
Be able to relate to people of ALL ages.

Don't have a licence to drive coaches yet? - Don't worry, we may be able to help you to achieve this goal.
How to apply:
Email a cover letter with your CV and copy of your passport to recruitment@busabout.com.
If your application is successful, you will be invited to a personal interview in London.
Successful candidates will be offered a position on our Training Trip, which will commence at the end of March 2020 and last approximately 5 weeks.
During training you'll visit and experience our core destinations we visit on our coach network. This is a VERY intensive course designed to be demanding and thorough. However, the benefits you'll receive on completion far out-weigh the work you've put in. Those who complete the training will be offered a position to work with Busabout during the summer season of 2020.
FAQs
Do I need a European Passport?
We are only considering candidates who hold an EU passport.
Am I required to pay a bond?
To secure a place on our training program you are required to pay a training bond of €250.00. This is fully refundable to you upon completion of your training trip and commencement of work.
What dates is the position for?
Your contract will be from May until October. The training trip for the coach network will start in March, with people who successfully complete the training, starting work in May and June after this training is complete. The season slows down in September.
Am I able to request time off during the season to go to a wedding/ go travelling etc?
While we are a company that will work around wishes of their staff, there will be no holiday authorised between July to the end of September, except in exceptional circumstances. However, of course you are free to travel on your time off.
When do applications close?
Applications will close when all positions are full, so get your application in as soon as you can!
I applied and still haven't heard back...
We have a large number of high quality applicants and it may take up to four weeks to respond to applicants. If you haven't heard from us within the four week period, you have not been successful on this occasion. Because of the high number of applicants we are unable to get back to everybody with individual feedback. However, please check your junk mail as our interview invites sometimes get sent there.
Where are the interviews held?
Interviews are held in London.
---
Still more questions?
Email recruitment@busabout.com and we will get back to you as soon as we can.